These 2 key on-chain factors suggest Ethereum's recovery is well on its way
Even after the crypto market's hefty recovery over the past week, Ethereum remains far below the values it was trading at just a month earlier. In fact, ETH trades at $134 as of the time of this article's writing — 55 percent below the 2020 highs it reached in February.
Despite this strong downturn, which has made ETH one of the worst-performing multi-billion-dollar assets in the entire world over the past few weeks, there are strong signs that a recovery is well on its way.
On-chain metrics show
Ethereum

remains on a

bullish

trajectory

According to cryptocurrency analytics provider Santiment, there are two on-chain metrics that suggest Ethereum remains on a bullish trajectory.

Firstly, per data released late last week, ETH whale addresses (top 100 holders) have "turned to accumulate," adding 150,000 coins (currently valued at $20 million) to their holdings in the five days after the brutal capitulation event on March 12th, since dubbed Black Thursday.
Although not exactly an indicator of future market directionality, many see the trends in holdings of large cryptocurrency players as a good sign of what's to come, as they're considered "smart money" that have a good handle on what's next.
6) Since Black Thursday, #Ethereum whale addresses have actually turned to accumulating once again, adding some 150,000 ETH over the past 5 days. Even the largest of $ETH holders have been indecisive with these market conditions. Addresses holding between 1,000 and 10,000 ETH pic.twitter.com/z8Irct0WBM

— Santiment (@santimentfeed) March 18, 2020
Furthermore, the analytics company noted on Mar. 23 that the number of daily active addresses on the network has been "ascending quite rapidly since Black Thursday, […] another great sign that ETH is setting itself for a recovery."
More specifically, this metric on Mar. 21 hit a nine-month high of 395,000 addresses, which Santiment deemed a "promising development for Ethereum's mid-term to long-term prospects."
Bullish

technical narrative shaping up well too

It isn't only these on-chain metrics suggesting Ethereum is on a path of recovery; quite a number of analysts are certain that Bitcoin is showing signs it is about to rocket higher, which will bode well for the rest of the crypto market, ETH included.

Over the past few days, there's been buzz amongst crypto trading circles of a textbook chart pattern, the so-called "bump-and-run reversal (BARR) bottom," which is marked by a downtrend into a capitulation sell-off, a short bout of accumulation, then a surge out of that accumulation.

As can be seen below in the chart from a crypto trader, Bitcoin has been following the textbook setup to a T — just as it did from November 2018 to April 2019, suggesting that this BARR bottom analysis really works for BTC.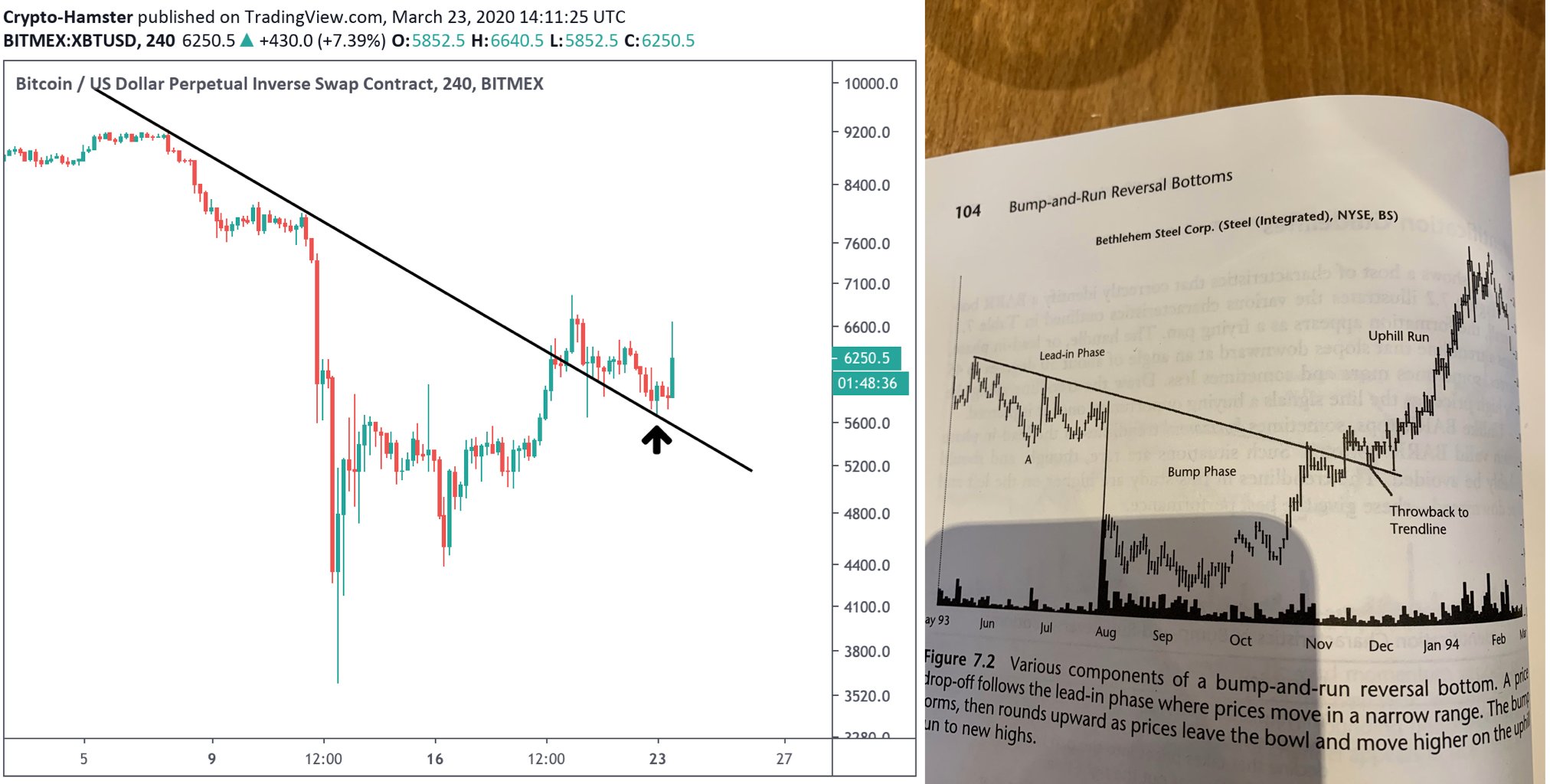 The cryptocurrency playing out this pattern in full will see it rally decisively past $7,000 within the next few days, the pattern predicts.
On the fundamental side, the Federal Reserve on the morning of Mar. 23 announced its intent to purchase any number of securities (up to a value of infinity dollars) that will help "support the flow of credit to households and businesses" and to "support the effective transmission of monetary policy to broader financial conditions."
Many have seen this as decisively bullish for Bitcoin, boosting the prospects of all cryptocurrency. As said by Robert Breedlove of Parallax Digital:
"'Infinite cash' in the Federal Reserve System means it will all eventually have zero value. Bitcoin was specifically designed as a countermeasure to this."
Ethereum, currently ranked #2 by market cap, is up 6.33% over the past 24 hours. ETH has a market cap of $14.75B with a 24 hour volume of $14.24B.
Chart by CryptoCompare
Posted In: Ethereum, Analysis, Price Watch
Published at Tue, 24 Mar 2020 10:00:31 +0000